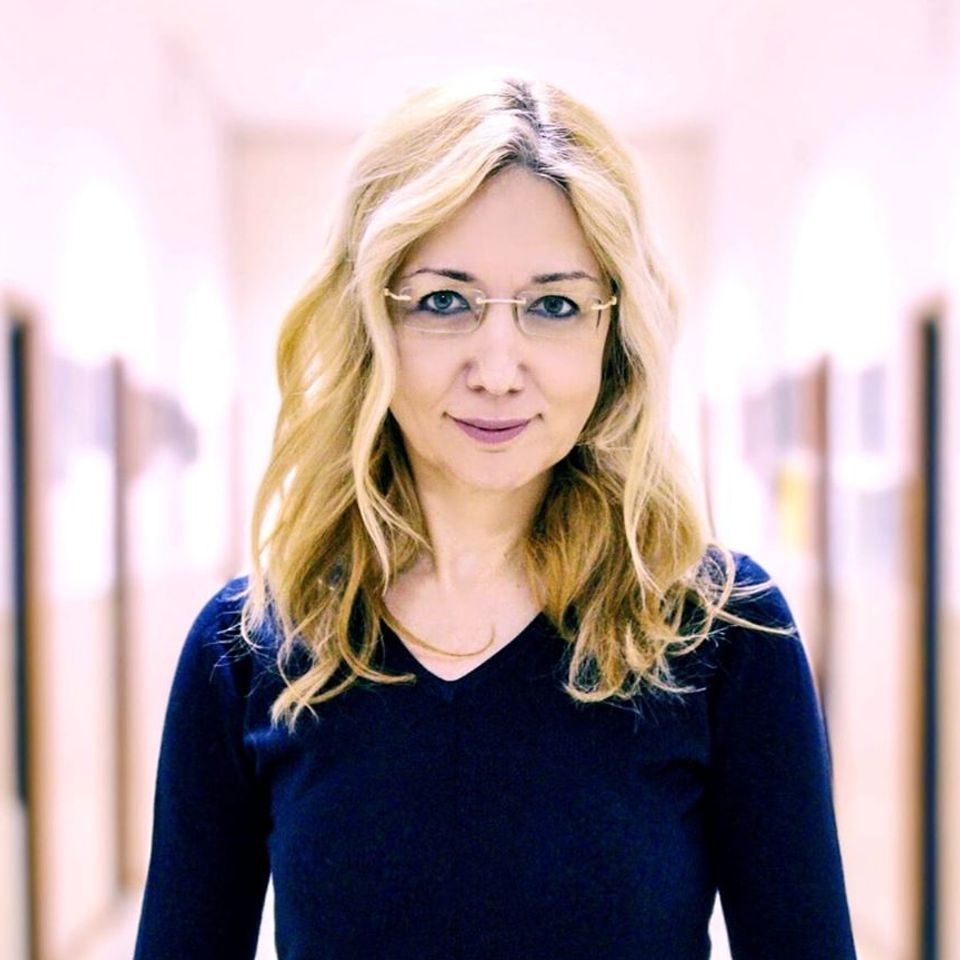 M. Sc. Danijela Rakić, associate professor, pedagogical advisor Danijela Rakić was born in Zemun (Serbia) in 1970. She completed her elementary and secondary musical education in the "Kosta Manojlović" school of music in Zemun, in the class of prof. Darko Uzelac. As a student, she received several achivements at national festivals and competitions. Danijela completed the accordion studies at the Russian Academy of Music - "Gnhesinih" in Moscow, in the class of prof. V. P. Kuzovljev (1994). In addition to the graduation concert, she also defended the graduation thesis - "Transcription of polyphonic compositions for accordion", under mentorship of M. J. Imhanicki, PhD; at the same year. In 2012, she finished master studies at the Megatrend University in Belgrade, Faculty of Culture and Media, defending the topic: "Formation of a Music Culture in the Conditions of New Media".
Danijela Rakić starts her pedagogical activity in Music school "Stanislav Binički" - Belgrade, in 1994. Since 2001, she has been working in Music school "Kosta Manojlović" in Zemun. Beside these schools, she was also engaged in music schools "Vuk Dragović" - Šabac, "Božidar Trudić" - Smederevska Palanka, and "Živorad Grbić" - Valjevo. In the period of 2005-2011, she was working at the Academy of Fine Arts in Belgrade. From the academic year 2009/2010, she has been in the university title of associate professor at the Academy of Music in East Sarajevo. In academic year 2015/2016, she was engaged at the academy of "Slobomir P University" in Bjeljina (Bosnia and Herzegovina), department in Belgrade (Serbia).
At the suggestion of the Ministry of Education of the Republic of Serbia, together with colleague Zoran Rakić, PhD, she has been working on the making of the Curriculum for secondary schools of music - accordion, chamber music, orchestra (1996).
2019, prof.Danijela Rakić published the book Etides  for Accordion, No. 1
Students in class of prof. Danijela Rakić perform at numerous public appearances in Belgrade, Serbia, Bosnia and Herzegovina, Slovenia, Russia, Bulgaria, Australia, France,  Lithuania, Latvia, Montenegro, Portugalia, Croatia, Italy, Switzerland, Czech Republic. Danijela achieved significant results on many national and international festivals and competitions: "Hopes, Talents and Masters" - Albena (Bulgariaj; "57th World Trophy" in Samara (Russia); "58th World Trophy" in East Sarajevo (Bosnia and Herzegovina); "61st World Cup" in Glasgow (Great Britain); "Akordeon art" in East Sarajevo; "65th World Cup" in Spoleto (Italy); "66th World Trophy" in Martigny (Switzerland); "20th Trophy of Portugal" - Alcobasa; "Accordion days" in Prague (Czech Republic); "Days of accordion" in Smederevo (Serbia); International accordion festival in Novi Kneževac (Serbia); "Harmonia" in Belgorod (Russia); "Accordion fest" in Knjaževac (Serbia); "Ascoltate" in Kaunas (Lithuania); "Naujene in Daugavpils" (Latvia); Competition in Moravske Toplice (Slovenia), International competition in Loznica (Serbia); Festival "Musical Spring" in Smederevska Palanka; Talent review in Sremski Karlovci (Serbia); "MehFest" in Belgrade; "Accordion fest" in Belgrade; "Accordionists meetings in May" in Lazarevac (Serbia); "Akkordeon fest" in Graz (Austria), "Primavera" in Bjeljina,"Accordionmania", Pleven(Bulgaria), "Kustendorf", Serbia,"Peter-Paul meetings" in SanktPeterburg (Russia), "Crimean spring", Crim "68th World Trophy" in Loule (Portugal);.. 356 awards were won in different age categories, of which 108 special.
Danijela Rakić was also engaged as a member of jury on national and international competitons in Serbia, Bosnia and Herzegovina, Greece, FYR of Macedonia, Russia, Lithuania, Latvia, Switzerland, Croatia, Austria, France, Australia, Croatia and Portugal.
Eight times she was awarded by the Music school "Kosta Manojlović" in Zemun, for the achieved pedagogical results in work with students.
In five consecutive years (2010-2014) Danijela was being awarded by the Dean of the Academy of Music in East Sarajevo with the acknowledgement for the promotion of the Academy and results achieved at national and international competitions. At the first International festival "Akordeon art" (2010), Danijela Rakić was awarded as the most successful accordion teacher. She has won more than 70 national and international awards.
In 2008, she was selected to be the President of the Belgrade Section of Accordionists. She manages the Belgrade and regional sections. Also, she took part in the worknof the General Assembly at the winter and summer congress of the World Confederation of Accordionists (Great Britain, China, Italy, Bosnia and Herzegovina, Austria). Besides the mentioned professional engagements, D. Rakić has also been engaged any times as the lecturer on seminars and master-classes for teachers and students in Serbia, Ukraine, Russia, Australia, Lithuania and Croatia. She performed on International science conference at the University "T. Schevchenko" in Lugansk (Ukraine). Together with colleague Valentina Dutina, M. Sc., she presented lecture on topic: "Serbian vocal tradition". Also performed at 6th International science conference "Traditional music in system of professional education" in Belgorod (2015). Danijela took part in International science conference "Traditional music art in modern social culture - traditions and inovations" (Belgorod, 2015). She also performed at 7th International science conference "Folk music culture in modern world: union of science, education and practice" (2017). Danijela is a member of "Confederation Mondiale de l' Accordeon" (CMA, France); "Confederation Internationale des Accordeonistes" (CIA, Great Britain) and member of academic music association - "Musical constellation" (Serbia). In the Arpeggio Association (BiH), she serves as the President of the Assembly. The Artistic Director is the 1st International Festival of Valjevo Art Festivals, Valjevo, Serbia (2019).
She helps young colleagues as a mentor for the preparation of a professional examination from the accordion. Since the academic year 2007/2008, she has been performing the duty of the chief at the Section of Accordion, and from academic 2011-2015, she has been performing the duty of the chief at the Chair of Accordion, at the Academy of Music - University of East Sarajevo.
She is a member of the pedagogical comission appointed by the Ministry of Education of the Republic of Serbia for teacher licensing.
In 2015, she receives the Annual Prize of the "Music School of Serbia Community" for multi-year activities in the formation of young talents and for selfless love, frienship and knowledge invested in the growing up of the artists. Since then, Danijela holds the position of Pedagogical advisor of the Republic of Serbia. "Accordion News", famous accordion website, ranked prof. Rakić among the five most successful professors of Europe (2017). "The Best Educators of Serbia", project implemented by the Association for the Promotion of Enterpreneurship", selected professor Danijela Rakić for one of the best educators in Serbia (2017). The same association nominated D. Rakic ​​in 2019 as Serbia's representative for the Yidan International Educational Award.
From autunum 2018 in Institute for Improvement of Education in Serbia helps with creating curriculum for Accordion departments for primary music schools in Serbia.
D. Rakic ​​has also appeared in two issues of the American publishing house Times Square press-New York. In the world encyclopedia Accordion and worlds best contemporary accordionist biography of professor Rakic ​​was published, and in the book From the shadow of an accordion to eternity interview.
In 2019, she even interviewed the renowned American Accordion stars magazine-New York three times. She has been listed in the Top 100 Most Influential Academic Accordion Leaders by the same journal and named the World's Best Teacher in 2019. academic harmonics.
2019.Her biography was printed in the Creator Lexicon in Pre-University Education, KLETT,
Serbia.
2019. The Association of Music and Ballet Educators of Serbia awarded D. Rakic ​​the Diploma for the achieved long-term pedagogical results.
2019. She was awarded the Civil Merit Charter with a Gold Medal - Meritorious Citizen of Zemun, Serbia.